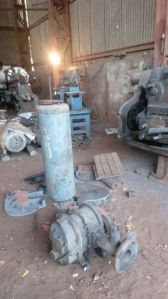 If your machine break down, we can repair it at our workshop. To dismantle and inspect the air blower.
Repair Process
1. Dismantle and Inspect
We fully dismantle and inspect all major parts, measure the clearances, check the condition of the internal components and try to establish a possibly cause of failure to enable you to put preventative measures in place to help avoid future problems.

The only time we would not fully dismantle a blower is if upon initial inspection, the machine appears to be in such a condition that we could not safely repair it; the repair cost is expected to be close to the cost of a new blower or if there are major parts broken which can no longer be obtained.

2. Report and Quote
A report is normally sent by email. This will detail our findings and recommend what work should be carried out to restore the blower to working capacity. If the repair cost is high or lead-time is too long, then we may suggest alternatives such as a new or refurbished blower to suit your requirements if possible.

3. Blower is repaired to order
The machine stays in our workshop until you provide us with an order number which means it eliminates parts becoming lost or damaged in transit and that the blower is of a known condition (as reported).

The blower can be returned in a dismantled condition* if you do not wish to proceed.

4. Inform you of completion
Once the blower repair has been completed and painted, we will contact you to arrange delivery to you or your customer. You may collect from our premises if you wish.

*Please note that a dismantle and inspection fee will be charged if the machine is returned/collected in a dismantled condition to cover our labour costs. This price excludes VAT and does not include shipping costs, repair or supply of parts.

If you decide not to proceed with the repair and surrender the machine to us, there will be a reduced inspection cost.

Blower Servicing
We have successfully used several options for various customers. We have modified the scope of service work to meet customer requirements.

Blower Troubleshooting and Inspection
If you have a problem with your air blower and don't know whether you need a replacement, repair or maintenance please send us your equipment at our works.
read more...